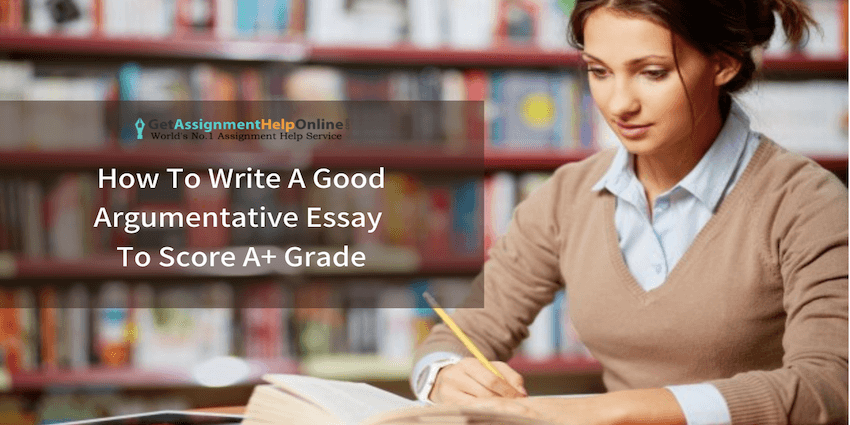 How To Write A Good Argumentative Essay To Score A+ Grade
While writing a persuasive essay, you may need an opinion and some supporting elements to project a strong voice. But, in an argumentative essay, you will have to go a few miles ahead. There will be a single opinion, but it will require multiple facts to support your argument. Structure too should be on point, as no matter how strong your stance is, it will not appeal to the readers if it is not structured in the right manner. In this article, you can read everything that is required to write an argumentative essay and how to structure it. Let's begin:
Finalize The Topic & Opinion
This is the first thing you should know how to write an argumentative essay. Begin with choosing a suitable topic. You can go through different issues and pick out the one that gives room to at least two conflicting viewpoints. This process may take some time, but you will love to write an essay on a topic of your interest. So, make sure you spot something that really piques curiosity or at least interest. A passionate writer always comes up with striking content.
No, the first step is not over yet. Once you are done with choosing the topic, jot down the points for two sides of an argument. While shaping an argument keep yourself considerate. List out the points carefully, you will have to elaborate them on a later stage. Also, you will have to gather evidence for and against the issue. Lastly, determine your side of the essay, work against both sides, and prove that your point is right.
Write Your Argumentative Essay
Back up yourself with a solid and authentic foundation of relevant data. Then start writing your argumentative essay in a flow. Your essay should have three parts:
Introduction
Main Body
Conclusion.
The length or size of all these sections will vary as per the guidelines you have and the topic of your argumentative essay.
The introduction will contain a thesis statement as well, and you may have to put hard efforts in curating one. Later on, in the main body of your essay, you will have to elaborate on the points you listed earlier. At last, the conclusion will serve as a summary to your readers.
If you are not a frequent writer, start with a rough draft. Even if the initial drafts don't turn out to be good, don't be harsh on yourself. Keep trying and you will finish soon.
Show Both Sides of The Coin
Students who ask how to write an argumentative essay often get confused when we suggest they present two sides of the topic. If you are also thinking about why you should include the part you don't agree with, let us clarify it for you. By presenting both sides of the topic to your readers, you will leave nothing for imagination. And, this is where you can make them focus on what all you have to say. Write the meat of your argument. But, delve into details about another side of the topic as well. Thereafter, state the strongest point of the counter-side.
Conclude The Essay
While you are trying to know how to write an argumentative essay, you must understand the worth of the concluding paragraph. Generally, students put their best effort into developing the main body of the essay but don't pay attention to the last portion. This is something you should never do.
An appealing conclusion is as important as a good introduction. Here, you will have to summarize all you said in the main body of your essay. This way, you can reinforce your viewpoint and show your readers why they should agree with you. You can even include overwhelming statistical data in the conclusion so that your readers are not left with doubt regarding your arguments.  In all, conclude your essay in a way in which you can restate your opinion as to the right and sensible one.
Pro-Tip
While writing an argumentative essay, do consider all the above-listed tips if you want to craft a poignant and rational argument. Yes, you will need to appeal to your readers but don't do this through emotional language as it may sound irrational. Pay a little more attention to your content and you will know the difference between emotional and logical arguments.
I hope that the above-mentioned essay writing tips will help you to understand how to formulate an argumentative essay. Still, if you are facing confusion or finding essay writing a laborious task, seek help from GetAssignmentHelpOnline.com. We are the leaders in academic writing. Our stellar essay writers will assist you by providing complete essay help online. Our services are spread across the globe. You can ask for an essay writing service from anywhere in the world. To know more about us, visit GetAssignmentHelpOnline.com. Here you will find more help related to academic assignments.