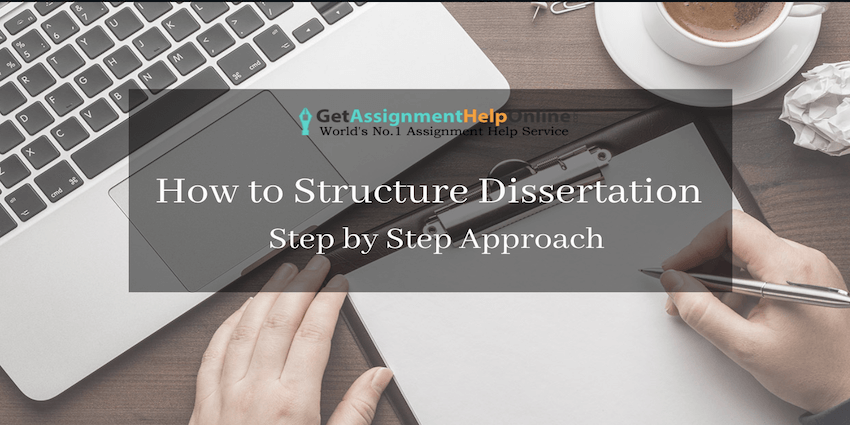 How to Structure Dissertation | Step by Step Approach
A dissertation is a long academic research paper and a part of your doctoral or master's degree program. Writing a dissertation could be an overwhelming task for almost all students. Most of the students are afraid of writing a dissertation & may be wondering "How to Structure Dissertation". This is quite obvious, this academic paper involves extensive research, data analysis and interpretation, and 50 thousand words. Yes, you read it right, that is why students have nightmares of a dissertation.
However, if things put in the right manner, and you start it with the right approach you could achieve a good result in a dissertation and things can be smooth for you. Today in this blog, I am going to help you out in composing your dissertation. Do you want to know how? I am going to explain the structure of a dissertation and the steps involved in it. So, stay on this page and read it till the end. 
A Complete Structure of A Dissertation
Before we jump on to the structure, I would like to tell you all that structure of a dissertation might have some variations as per the university and location. Nevertheless, a large part of it will remain the same globally.
Title Page
This is the first and foremost page of your dissertation. It comprises of the Title, your name, department, college/university name, program name, supervisor's name, university logo and date of submission. Formatting of the dissertation title page may differ from university to university. Therefore, keep yourself updated with it.
Acknowledgement
This is a thanksgiving page. Made up for those who have guided you in your research. This includes the supervisor's name, family, professors who helped you, etc. In most of the university, this is an optional page. Therefore, check the university guidelines before including this page in your dissertation.
Abstract
An abstract is a summarized version of your dissertation. It would be around 300 to 400 words, rest depends upon the subject as well as on topic. Though it comes in the beginning, one has to write it after finishing the dissertation. It includes,
The main topic of the dissertation

Aims of the research paper

Methods used by you

Summary of the result

Concise conclusion
An abstract is a summary, but while writing it, one must be very careful. It provides an overview of your dissertation, therefore, has to be written with care.
Table of Content
Here you have to make a list of all the chapters along with page numbers. Some universities prefer chapter heading as well in the table of content. Ms Word allows you to generate a table of content automatically. 
Introduction
The first chapter of your dissertation is Introduction. Here you will start with the dissertation topic, then you have to explain the purpose of choosing the topic and at last, let the reader know about the dissertation here. Follow these steps while writing the introduction.
Establish a research topic. Provide the background details of the topic.

Describe the ongoing research on the topic and how your is different from them. Tell the reader what new areas you have picked.

Provide a thesis statement.

State your research questions and objective of your research work.
Literature Review
A literature review is getting a good understanding of the pre-existing academic work on your dissertation topic. This includes:
Collecting sources such as related scholarly articles, books. They should be authentic. Premium websites provide the most authentic work.

Critical evaluation and analysis of the collected literary information.

Using them as a piece of evidence to justify your raised arguments.
A literature review should be coherent and structured. Often students end up with a summary. That should not be the case if you are expecting good grades.
Research Methodology
The methodology includes the manner in which you have conducted the whole research. There are four types of research qualitative, quantitative, experimental and ethnographic. Type of research will be based on topic and subject. Mention the following things in methodology.
Data collection methods

Data analysis methods

Tools used in research

Obstacles faced while conducting the research
Results
After the research methodology, you have to make a report of your results. In this, you have can provide questions, hypothesis, and topic. You have to only discuss the results that have relevance to your dissertation.
Discussion
In this part of your dissertation, discuss the implication of your results. You have to discuss the result in a detailed manner. You have to tell whether the results are as per your expectations or not. If not then what are the causes led to the deviations in the results.
Conclusion
The conclusion should just not be the summary of the work. Rather a concise answer to the research topic. It should provide a good understanding of the central argument of the research. Students while writing the conclusion, should not rush with it. Rather write it down with a good and complete understanding. You can end up the conclusion with a question that will lead to later discourse.
Reference List
Here you have to provide the sources cited in the dissertation. It should be done correctly as per the formatting rules of the University. Some of the common styles of referencing are APA and MLA. 
Appendices
It is an area used for providing those documents and information which are related to your research but does not fit into the dissertation. For instance, questions you put up during the survey, figures and stats.
This is the complete structure of a dissertation. Students should follow it while working on their dissertation. If your confidence still dwindles, you may take online dissertation help from GetAssignmentHelpOnline.com, a top-rated website for research paper writing work. Here you can find the experts who can write down the scoring dissertation for students. Our dissertation help service is affordable as well as on-time.